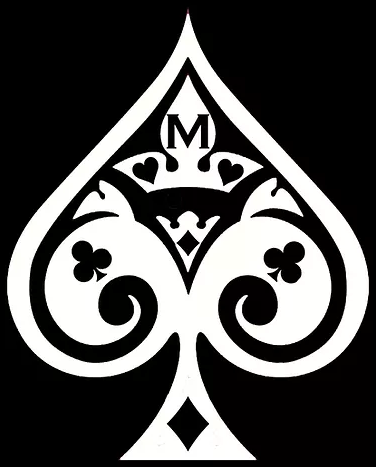 Magician in Dorset
McQUEEN The Magician
Introducing Stephen McQueen
Dorset Magician – As Seen On TV
Stephen McQueen is a local world-class magician in Dorset who began his career over 18 years ago. He has performed for countless A-List celebrities and has entertained at events for many top brands, well-known companies in the UK.
His talent has even been seen on TV and in Film, recently working on STAR WARS THE LAST JEDI.
Specialising in breathtaking magic shows, Stephen provides entertainment for all types of functions, including weddings, birthdays, corporate events, civil ceremonies and private parties.
Hire A Close up Magic
Award-Winning Magician
Stephen's close up magic is far from anything you will have seen before. His incredible skills include sleight of hand, mind reading, pickpocket magic and more! Making him a perfect and unique choice for your important event.
He is one of the most sought-after entertainers in the area.
Close-up Magician in Dorset
Performing close up magic is just one of the many services that Stephen provides. With over 18 years of experience in the field, he is a world-class entertainer and has performed for countless A-list celebrities and top brands. Whether you are hosting a wedding, birthday party, corporate event or private function, hiring a close-up magician is a guaranteed way to provide your guests with an unforgettable experience!
If you're looking for an unforgettable experience that will leave your guests in complete awe, look no further than Stephen McQueen. Whether you're planning a wedding, birthday party, corporate event or any other type of function, he is the perfect choice when it comes to booking a close up magician in Dorset.
Contact him today to find out more!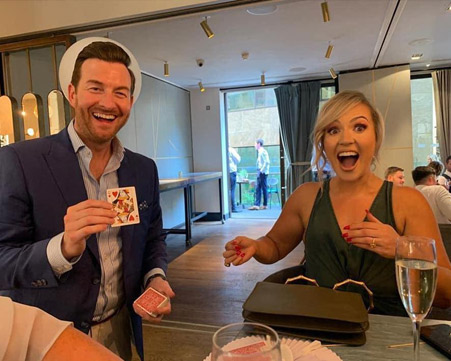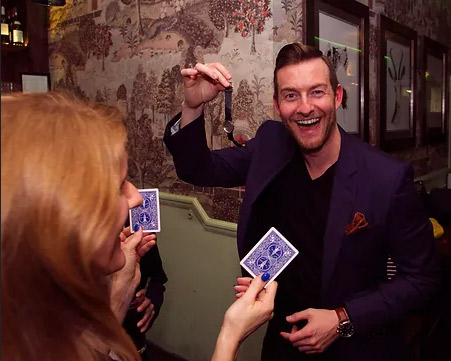 Wedding Magician In Dorset
If you are getting married and are looking for a professional magician in Dorset to make your special day that extra bit magical, look no further than Stephen McQueen. As one of the most experienced and skilled magicians in the area, he has entertained at hundreds of weddings and other private events across Dorset and beyond.
With his impressive repertoire of close-up magic tricks and mind reading, including pickpocketing and impressive sleight of hand, Stephen will keep your guests entertained and amazed throughout your event. So if you're looking for a unique addition to your wedding reception, Stephen is THE perfect wedding entertainer for you.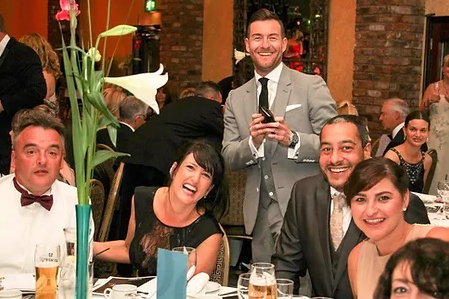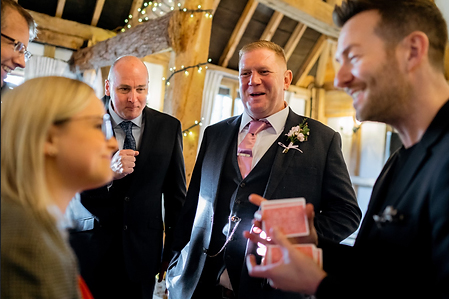 Wedding Host and Emcee / The Magical Toastmaster | Magician In Dorset
Not only a superb wedding magician, but Stephen has also performed and emcee'd at 1000's of weddings all over the globe. From huge Asian ceremonies of hundreds to an intimate setting of a small get-together. You need the right Dorset magician with plenty of professional experience to enhance your wedding day and make it one that you will remember forever.
Stephen has a selection of packages to suit your wedding – please email to check availability and for more information.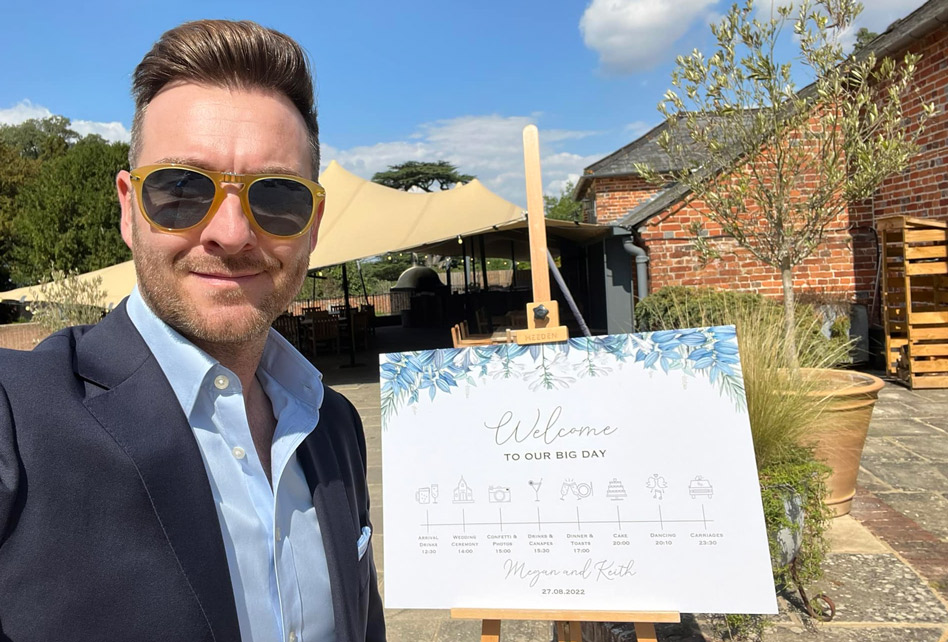 Corporate Magician / Corporate Event Magician
As well as private parties and weddings, Stephen has performed at countless corporate events and parties.
Corporate Events include:
Team Building Events
Christmas Parties
Award Ceremonies
Conferences
Trade Shows
Team Meetings
Product Launches
Annual Dinners and Galas
Large Events – The Best Close-up Magician Team
For larger scale events of more than 150 guests, Stephen can work as part of a team of Dorset magicians. Working the room together, the team of magicians will interact with guests and perform a range of stunning and mind-blowing magic tricks that are guaranteed to leave a lasting impression. Make sure all your guests see amazing magic, and book your Dorset magicians here today!
Award Winning Magicians In Dorset – Previous Clients:
Stephens clients include huge companies like Hugo Boss, Sky TV, Aston Martin, BMW, Warner Bros and many more. Maybe its a small company get together or a huge event, product launch or a sales meeting? Stephen has you covered. Christmas parties to film wrap parties, Stephen knows how to handle them all and get the best out of them through his 18 years of experience, email to enquire about the different packages he offers.
Christmas Party Magician
Make your Christmas party in the Dorset area truly spectacular! Hiring Stephen as your close-up magician for the event will provide your guests with an experience they will never forget. From mind-blowing pickpocketing tricks to incredible sleight of hand and more, he has something special up his sleeve for everyone.
So if you're looking to make your Christmas event one that all your friends and family will remember, contact Stephen today and book him as your Christmas party magician!
Types Of Magic
Table magician / table magic
Wedding magic
Close up magicians
Emcee magical entertainment
Stage magic / stage magician / stage shows
Caberet
Mind reading
Pickpocket magic
Comedy magic
Magic with borrowed objects
Magicians In Dorset – Previous Venues
Dorset, with its charming blend of natural beauty, historic landmarks, and idyllic coastal settings, has become an increasingly popular choice for both weddings and corporate events. Here are a few compelling reasons why people may choose Dorset as their preferred location:
Natural Splendor: Dorset boasts a stunning landscape that ranges from the rolling hills of the Dorset Downs to the dramatic coastline of the Jurassic Coast, a UNESCO World Heritage site. Couples seeking a picturesque backdrop for their wedding or corporations aiming to host events in inspiring surroundings are drawn to Dorset's natural beauty.
Historic Venues: The county is home to a wealth of historic venues, including castles, manor houses, and elegant estates, all of which provide a touch of timeless elegance and charm for weddings and corporate gatherings. These venues offer a sense of history and grandeur that can enhance the atmosphere of any event.
Coastal Appeal: With its proximity to the English Channel, Dorset offers the allure of coastal weddings and corporate events. The sight and sound of the ocean, coupled with sandy beaches and rocky cliffs, create a unique and memorable setting for special occasions and business functions alike.
Accessibility: Dorset is easily accessible from major cities like London and Bristol, making it a convenient choice for guests traveling from afar. Its excellent transport links, including rail and road connections, ensure that attendees can reach their destination without hassle.
Cultural Heritage: Dorset's cultural heritage, including the works of Thomas Hardy and its traditional villages, adds a distinctive character to the county. This rich heritage can infuse weddings and corporate events with a sense of timeless English culture and charm.
Professional Services: Dorset is well-equipped to cater to both weddings and corporate events, with a range of professional event planners, caterers, and suppliers who can help execute flawless occasions.
Here are just some of the venues inand around Dorset where Stephen has had the pleasure of working as a close-up magician:
Lulworth Castle & Park
The Italian Villa
Highcliffe Castle
Kingston Maurward House & Gardens
Athelhampton House & Gardens
The George Albert Hotel & Spa
The Crown Hotel
Merley House
The Orangery Suite
The Tank Museum
Mapperton House & Gardens
Pennsylvania Castle
Holbrook Manor
Sherborne Castle
The Durley Dean Hotel
Compton Acres
Bennetts Water Gardens
Durlston Castle and Country Park
The Green House Hotel
The Royal Exeter Hotel
Plus many more
5*Rated Reviews – Magicians in Dorset
"Stephen, thank you so much for giving our wedding day that extra wow factor. Our guests were mesmerised by your magic along with your stand up show. I thoroughly recommend him for any event; you will not be disappointed. Thanks again. Mr & Mrs Morris-Seabridge"
Marc Morris-Seabridge
"Stephen performed at our Hampshire country wedding a couple of weeks ago. We were very excited having seen him perform at a Christmas party last year. He did not disappoint! He was absolutely fantastic and our guests loved him. He was a highlight of the day and a great ice breaker during the wedding breakfast. Can't recommend him enough if you want to make your event extra memorable."
David Allan
FAQ's
What is the "Magic Circle?
The Magic Circle is an international society of magicians, founded in London. It is the world's most prestigious magic organization, and its members are some of the most highly respected magicians in the world.
How long has Stephen been performing magic?
He has been a professional for over 18 years now! You can be 100% sure that your event is in safe hands.
Get A Quick Quote …
Please complete the form below to get a quick no obligation quote for your event …
CLICK TO ENQUIRE BY EMAIL
CLICK TO ENQUIRE BY PHONE